CLEANSING CREAM
Nourishing and cleansing cream
Very pleasantly scented, this 2-in-1 cleansing and nourishing product leaves the skin perfectly clean, soft and moisturized.
Cleanses
Its soap-free cleansing base with physiological pH gently eliminates all impurities.
Nourishes
With 1/3 nourishing milk, it preserves the skin's hydrolipidic film.
Protects
Thanks to its gentle lipid-replenishing agents and Uriage Thermal Water, it protects the skin against the drying effects of hard water.
Overall Rating
★ ★ ★ ★ ☆
Number of reviews
5
Size
1L pump bottle
500ml Pump bottle
200ml Tube
Results
2 actions
in a single skincare product to gently cleanse sensitive skin.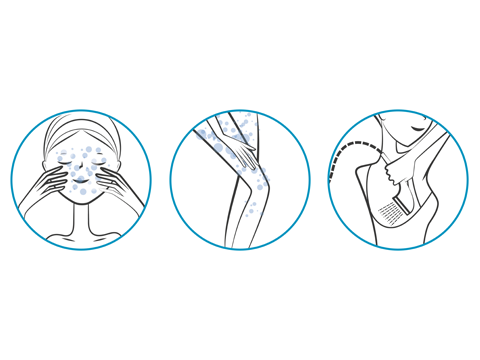 Advice
Lather well on damp skin and then rinse. For daily use.
Uriage Thermal Water
Gentle soap-free cleansing base
Glycerin - Illipe extract
Moisturizing and superfatting agents
Hypoallergenic
Soap-free
Ophthalmologically tested
Reviews
submitted 05
Khadijah
Siti
August 26, 2017
★ ★ ★ ★ ★
Best cleanser I've ever used....
Deepa
Kamesh
I liked this face wash a lot. Well suits for acne probed skin
Chun
Lisse
The best body cleanser I ever tried. I tried a few different brands from pharmacy but this is my favorite. Leaves skin soft and nourished. Very pleasant aroma. Far better than another uriage body cleanser I used before. Worthy to pay little more !
J
Nomrah
January 31, 2016
★ ★ ★ ★ ★
Love, love, love this cleanser! Highly recommend, as it leaves my sensitive skin clean and moisturized. Does not dry my skin and the fragrance is very pleasant, not overpowering.
Nishta
Hosanee
January 20, 2016
★ ☆ ☆ ☆ ☆
This is a just Wow products. I just love it. Softens my skin's even an excellent make up remover. Also I hv problematic acne issues n I can't used every cleansing wash. This one is a milky substance n it's goes well on my skin. N doesn't aggravate my acne. It calms my skin whole day n night. Make a try for those who have sensitive skin.